CBD Basics for Exceptional Skin
CBD is short for cannabinoid oil, which is one of the roughly 130 chemical compounds that come from the cannabis plant. Since its legalization, stores selling this specialty oil have popped up across the country.
CBD oil supposedly accomplishes a great deal, and one of those suspected benefits is using it to improve your skin. But what is it, and how can it help you?
What Is CBD?
CBD was first legalized as a result of the 2018 Farm Bill. Since that time, the market has exploded, and CBD has been hailed as a virtual wonder drug capable of alleviating all sorts of aches and pains.
More research into CBD is needed in order to determine exactly how it works. The United States Food and Drug Administration has only approved one medication containing CBD, and that's for children with a rare seizure disorder.
To be clear, CBD is not marijuana. CBD products come in a variety of forms and strains, but it either contains zero or trace amounts of THC, which is the psychoactive component in marijuana. Due to such small amounts, CBD will not get you high.
How Does CBD Work?
CBD works by altering your body's endocannabinoid system, a portion of your body that influences a variety of feelings and sensations including mood, pain and inflammation. Your body has at least two types of cannabinoid receptors. When you consume CBD, it alters those receptors, making it easier for cannabinoids to affect you.
How Does It Help Skin Care?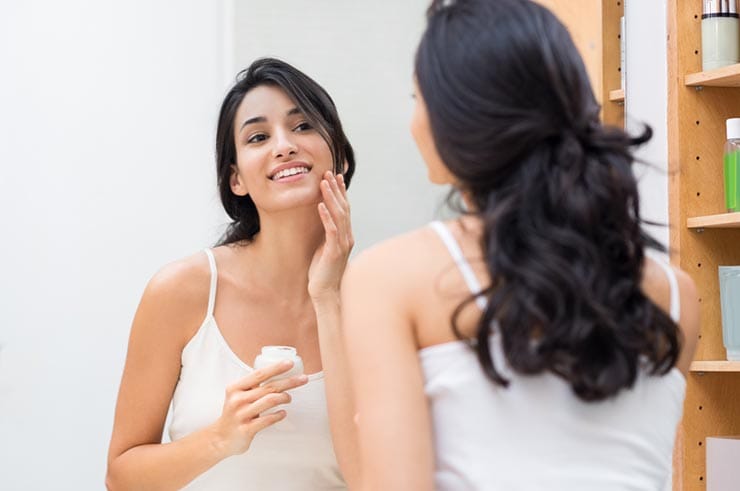 Again, more research is needed, but CBD has numerous potential benefits for your skin according to multiple anecdotal reports. Some types of CBD, such as hempseed oil, are purported to have many skin benefits, including slowing oil production, minimizing inflammation and reducing the effects of aging. Further research and summaries show that CBD products can reduce scarring, eliminate acne and soothe sunburn.
Types of CBD Oil Products
CBD comes in many varieties. Some are ingestible, such as candies, pills or tinctures. There are many CBD topicals that can be used for skin care as well. These include lotions, creams, balms and hand salves. Each comes with its own uses and has differing composition.
Lotions and creams: One popular use for CBD oil is in lotions and moisturizers. This is because scientists are finding more research that CBD can help those with dry skin and eczema.
Balms and salves: Because it helps with inflammation and pain, CBD oil is also found in balms for sore muscles or joints.
Facial oils: Facial oil easily lends itself to the addition of CBD oil. It can help moisturize skin, as well as reduce inflammation and redness.
Makeup: CBD makeup is becoming increasingly popular. Some of the makeup products you can find include mascara, lipsticks and glosses and eyebrow tints. These products offer calming and moisturizing effects.
Potential Side Effects
Some people experience relatively minor side effects with CBD use. These may include:
Dry mouth
Lightheadedness
Diarrhea or appetite problems
Drowsiness
Irritability
Fatigue and sleepiness
The best way to alleviate these side effects is to begin using CBD gradually, thus easing your way in and ensuring that any effects you feel will be minor. That being said, it is worth trying CBD for its potential to help reduce inflammation, heal scarring and achieve great skin.
The Need for Independent Testing
While there does need to be more research performed on the effects of CBD oil, it does seem to have positive properties. Researchers and users report that it helps with dry skin, inflammation, acne and oil production. There is no shortage of CBD oil products, so you can find one that will suit your needs and preferences. As with any new beauty product, you should begin by adding it gradually to your routine.
Check out our other articles for more information on improving your skin care routine.