Crystal Peel Body Cleanser
Advertising Disclosure
By: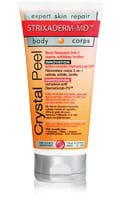 Benefits
Powerful exfoliating effects
Hypoallergenic, safe for use on all skin types
Softer, more radiant skin
Designed for daily use
All data for this product review has been collected from independent tests of Crystal Peel Body Cleanser. Individual results may vary and specific results are not guaranteed. All information herein is, to the best of our knowledge, accurate at the time of publication.
Featured Ingredients
Palmitoyl Oligopeptide and Palmitoyl Tetrapeptide-7 – these are two of the strongest wrinkle reducing peptides available in non-prescription beauty products. These two potent ingredients help shield the collagen in your skin (the building blocks of your skin's structure which keep it supple and firm) from external toxins and other causes of premature aging.
DermaScrub-PS – Sometimes, your skin needs a little help getting rid of the old cells to make way for your newer, radiant skin to shine through. DermaScrub-PS is unique to the Crystal Peel Body Cleanser formula and contains three of the top mechanical exfoliants – including powdered passion fruit seeds, florapearls microspheres, and powdered amber – that you can't find anywhere else.
Glycolic Acid – helps to gently break down the cellular structure of older, dead skin that your body is ready to get rid of. This makes it easier to remove for a fresh look.
Salicylic Acid – another potent chemical exfoliant that encourages your body to produce brand new cells and refresh your skin that much more quickly; but it is derived from aspirin, and is just as gentle on your body.
Bromelain – this natural fruit extract comes from pineapple, and helps to gently exfoliate your skin for enhanced softness and a younger-looking appearance.
For a full list of ingredients click here
Aqua (Deionized Water), Sodium Laureth Sulfate, Sodium Lauryl Sulfate, Disodium Oleamido Sulfosuccinate, Cocami MEA, Cocamidopropyl Betaine, DermaScrub-PS (Amber Powder, Bromelain, Passiflora Edulis (Passionfruit) Seed Powder, Glycolic Acid, Salicylic Acid, Carbomer, Polysorbate-20, Palmitoyl Oligopeptide, Palmitoyl Tetrapeptide-7, Simmondsia Chinensis (Jojoba) Esters), Parfum, Triethanolamine, Polysorbate-20, DMDM Hydantoin, Methylisothiazolinone, D&C Yellow #5, D&C Orange #4, FD&C Red #40.
Side Effects and Directions
Crystal Peel Body Cleanser is hypoallergenic and approved by dermatologists for safe, everyday use as a regular part of your beauty routine. For first time users, it is recommended that any time you try out a new skin product, to perform a patch test 24 hours before full use.
To use: simply wash as you normally would with your regular body wash, or in place of old fashioned bar soap. Gently massage Crystal Peel Body Cleanser into your skin using a loofah or a damp washcloth to remove unwanted skin cells and reveal fresh, healthy skin. Can be combined with other skin-cleansing or moisturizing products with no ill effects.
In-Depth Review
Not all of us have the time or the extra money necessary to get a good, thorough exfoliating treatment at our local day spa on a regular basis. The good news, however, is that with Crystal Peel Body Cleanser, you don't have to. This daily at-home spa treatment can be used in conjunction with your regular beauty and hygiene routine in order to reduce the appearance of dull, dead skin. Your body will feel softer, and your skin will look firmer and more radiant.
Crystal Peel Body Cleanser helps you achieve this fresh, youthful look through a three pronged approach. For starters, a unique blend of gentle, effective chemical exfoliating ingredients work to refresh your skin anew. Next, the patented DermaScrub-PS combines three of the best mechanical exfoliating agents that money can buy in order to make sure you successfully shed all of your unwanted skin. Finally, the Crystal Peel Body Cleanser formula incorporates two of the most powerful peptides on the market today to plump up your skin, protecting it from external factors responsible for premature aging.
All data for this product review has been collected from independent tests of Crystal Peel Body Cleanser. Individual results may vary and specific results are not guaranteed. All information herein is, to the best of our knowledge, accurate at the time of publication.

What's better than ?

Click Here
to See Our Top Rated Product
Advertising
Information researched for this content entails an unbiased opinion based on product specifications, overviews, and product information. If for any reason you think some of the information is not accurate, please feel free to contact us. We strive to bring only the most up to date facts so our readers are always correctly informed. Any trademarks, service-marks, and registered trademarks on our site are strictly the property of their respective owners.
Please be aware that the review charts do not encompass all available products on the market, but do comprise of some that we promote as affiliates. Also please note that in full compliance with FTC guidelines, you may assume that all links related to our review chart are considered an affiliate link and we may receive compensation for clicking on those links and making a purchase. However, it is extremely important for our readers to know that all editorial content disclosed on this page is written without any bias or prejudice regardless of affiliate associations or sponsorship. The opinions you read are strictly our own and we are independently owned as well.